Dreaming big means setting ambitious goals that challenge you to reach beyond your current abilities and circumstances. It requires a willingness to take risks, embrace uncertainty, and persist in the face of obstacles that may not even be visible yet.
Dreaming big can be a powerful motivator, inspiring you to push yourself harder and achieve more than you thought was possible. But, when you have a clear vision of what you want to accomplish, it helps you stay focused and motivated, even when the journey gets tougher.
However, dreaming big is not just about setting big, ambitious and lofty goals.
It also involves taking action to make those dreams a reality.
This means breaking your big dreams into smaller, more manageable steps, and working consistently towards them over time.
Also, it's important to remember that dreaming big is not just about personal achievement. Your big dreams can also have a positive impact on the people around you. When you pursue your dreams with passion and purpose, you inspire others to do the same and create a ripple effect of positive change.
Top 50 Quotes to Help You Dream Big
I hope these top dream big quotes inspire you to dream bigger and pursue your goals with passion, focus and determination.
Check out these famous quotes on dreaming big and setting and achieving your big and audacious life goals.
"Dream big and don't let anyone tell you that you can't." – Unknown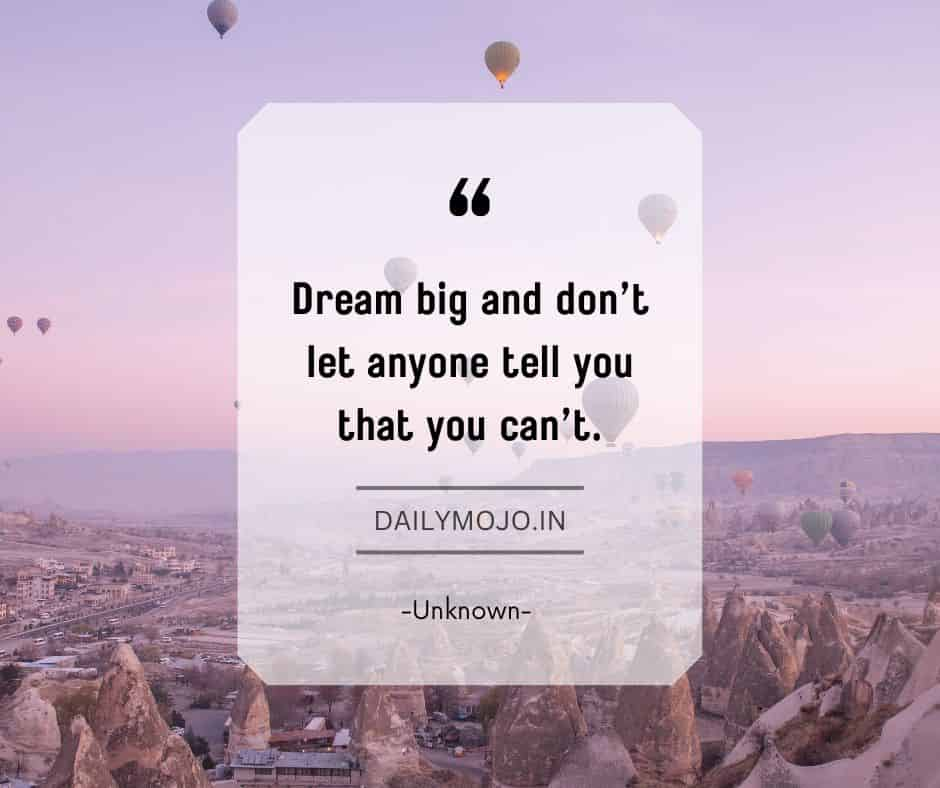 "If you can dream it, you can achieve it." – Zig Ziglar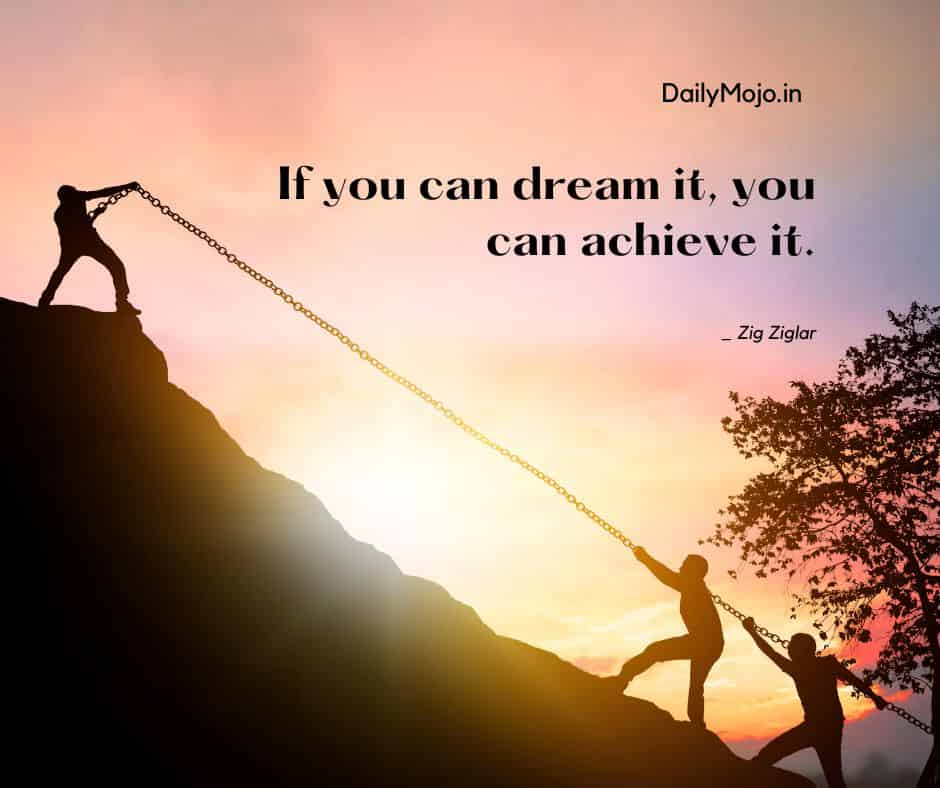 "Dreams are the seedlings of reality." – Napoleon Hill
"The biggest adventure you can ever take is to live the life of your dreams." – Oprah Winfrey
"The future belongs to those who believe in the beauty of their dreams." – Eleanor Roosevelt
"Dream big, work hard, stay focused, and surround yourself with good people." – Unknown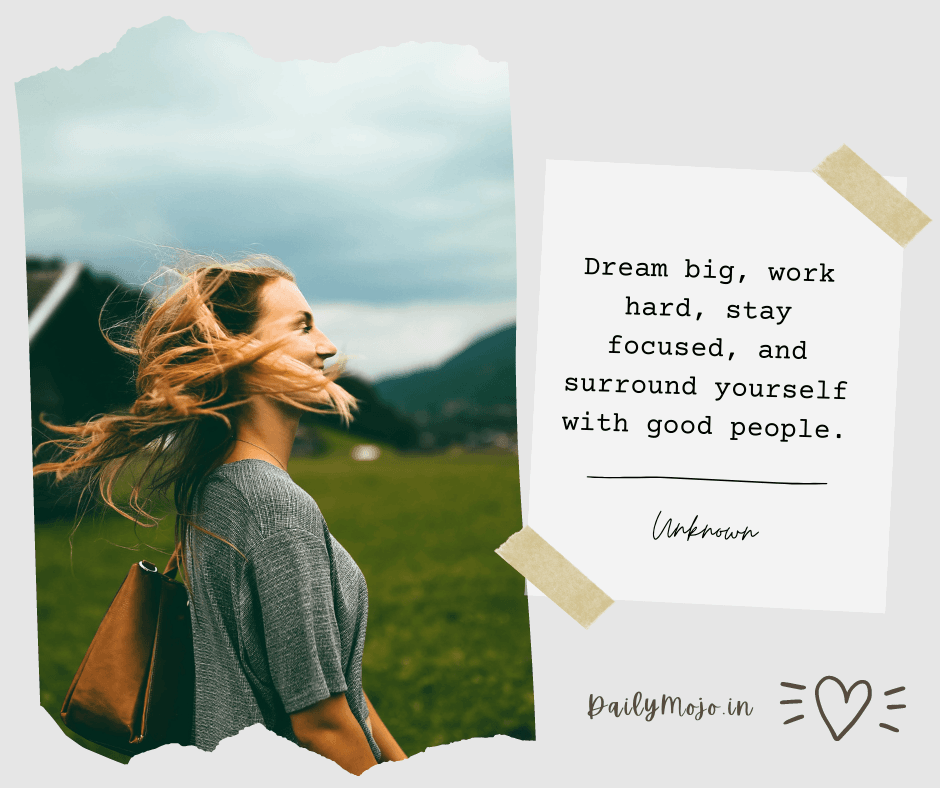 "Your only limit is the size of your desire. Aim higher, dream bigger." – Unknown
"If your dreams don't scare you, they are not big enough." – Ellen Johnson Sirleaf
"Dreams are like stars. You may never touch them, but if you follow them, they will lead you to your destiny." – Unknown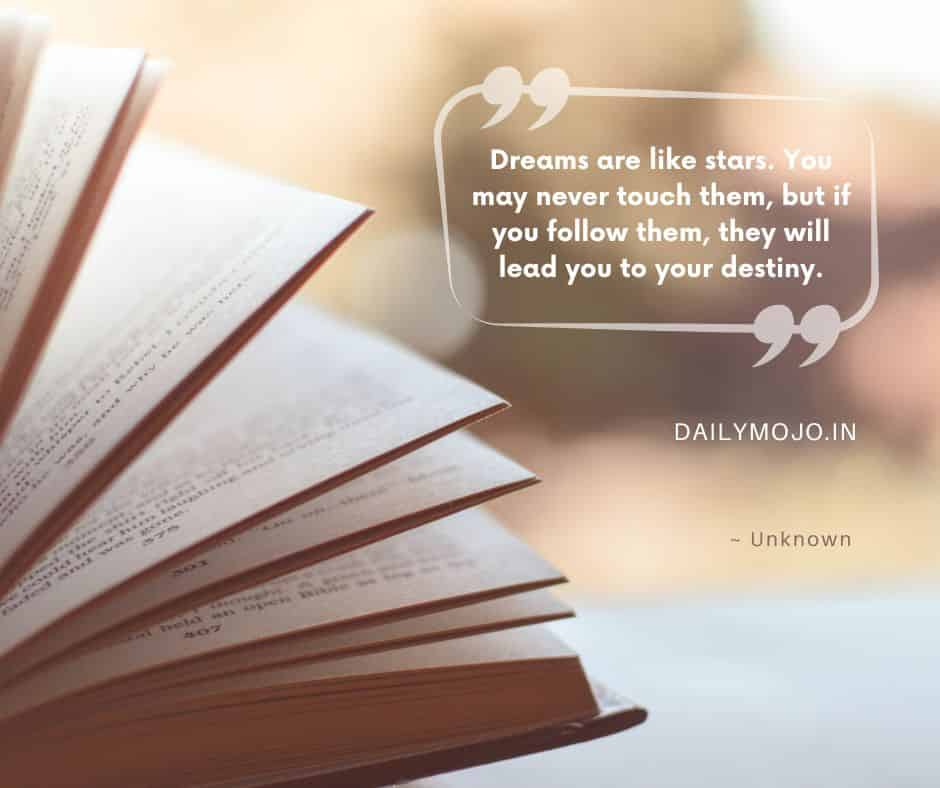 "Dream big and dare to fail." – Norman Vaughan
"A dream becomes a goal when action is taken toward its achievement." – Bo Bennett
"Believe in yourself and all that you are. Know that there is something inside you that is greater than any obstacle." – Christian D. Larson
"The only limit to our realization of tomorrow will be our doubts of today." – Franklin D. Roosevelt
"Dreams don't work unless you do." – John C. Maxwell
"The distance between your dreams and reality is called action." – Unknown
"Dreams are the touchstones of our character." – Henry David Thoreau
"All our dreams can come true if we have the courage to pursue them." – Walt Disney
"Go confidently in the direction of your dreams. Live the life you have imagined." – Henry David Thoreau
"You are never too old to set another goal or to dream a new dream." – C.S. Lewis
"Dream big, start small, but most of all, start." – Simon Sinek
"The greatest glory in living lies not in never falling, but in rising every time we fall." – Nelson Mandela
"Success is not final, failure is not fatal: it is the courage to continue that count." – Winston Churchill
"I have not failed. I've just found 10,000 ways that won't work." – Thomas Edison
"You miss 100% of the shots you don't take." – Wayne Gretzky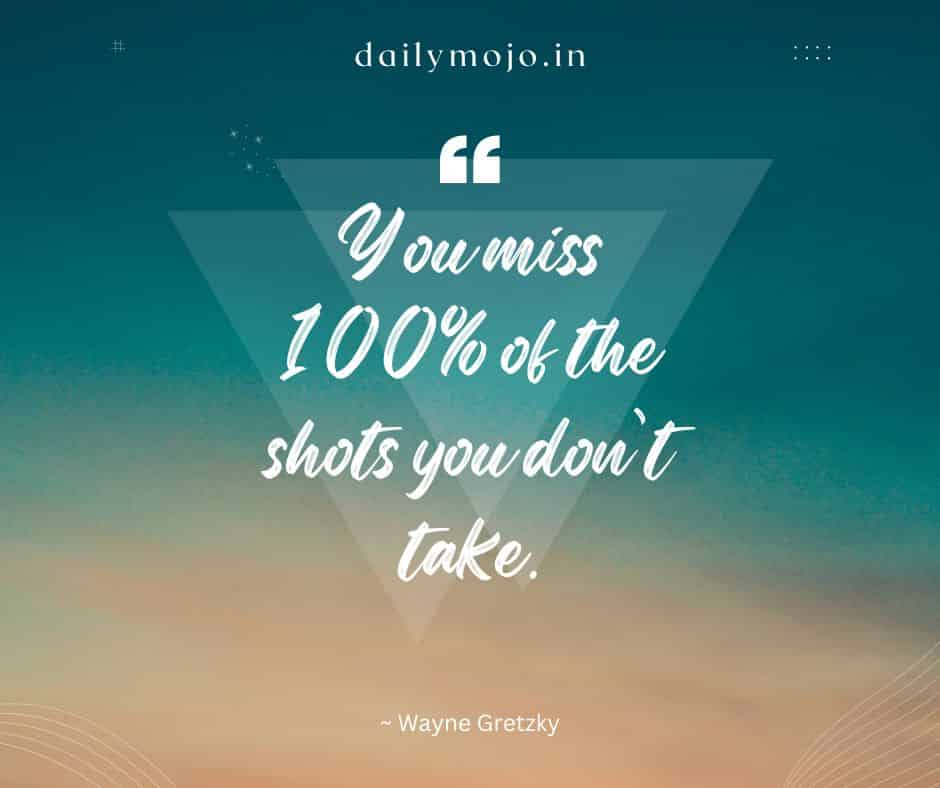 "The only way to do great work is to love what you do." – Steve Jobs
"Make each day your masterpiece." – John Wooden
"The only person you are destined to become is the person you decide to be." – Ralph Waldo Emerson
"Don't watch the clock; do what it does. Keep going." – Sam Levenson
"You don't have to be great to start, but you have to start to be great." – Zig Ziglar
"Believe you can and you're halfway there." – Theodore Roosevelt
"Dreams are extremely important. You can't do it unless you can imagine it." – George Lucas
"The future belongs to those who see possibilities before they become obvious." – John Sculley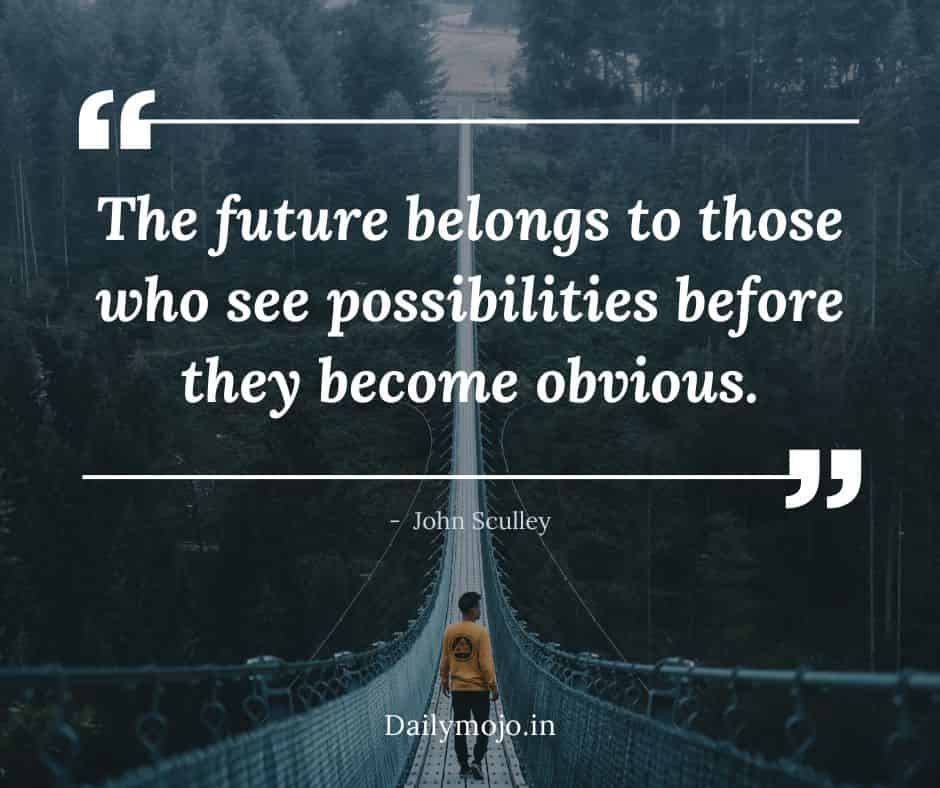 "The only way to predict the future is to create it." – Peter Drucker
"Think big and don't listen to people who tell you it can't be done. Life's too short to think small." – Tim Ferriss
"Imagination is more important than knowledge. Knowledge is limited. Imagination encircles the world." – Albert Einstein
"The only limit to our realization of tomorrow will be our doubts of today." – Franklin D. Roosevelt
"I have a dream that one day this nation will rise up and live out the true meaning of its creed: 'We hold these truths to be self-evident, that all men are created equal.'" – Martin Luther King Jr.
"The future is not something we enter. The future is something we create." – Leonard I. Sweet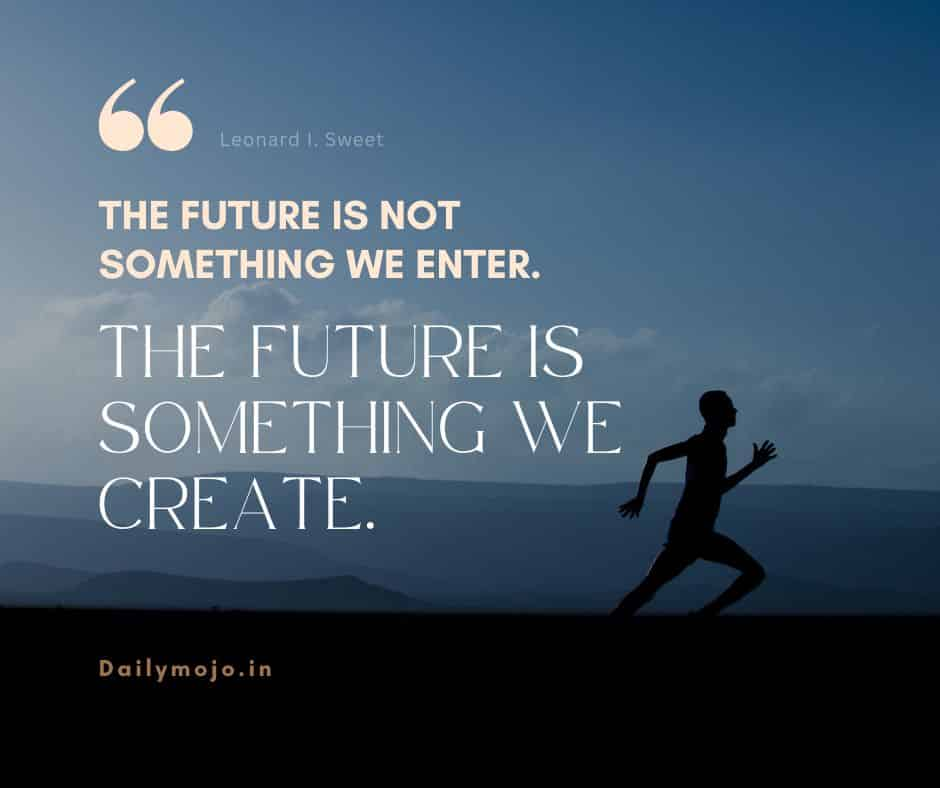 "The only true limit to your realization of tomorrow will be your doubts of today." – Unknown
"If you want to live a happy life, tie it to a goal, not to people or things." – Albert Einstein
"Dreams are illustrations from the book your soul is writing about you." – Marsha Norman
"Believe in the power of dreams and the strength of the human spirit." – Unknown
"We are all in the gutter, but some of us are looking at the stars." – Oscar Wilde
"Some men see things as they are and ask why. Others dream things that never were and ask why not." – George Bernard Shaw
"Dream big, work hard, stay focused, and never give up." – Unknown
"The best way to make your dreams come true is to wake up." – Paul Valery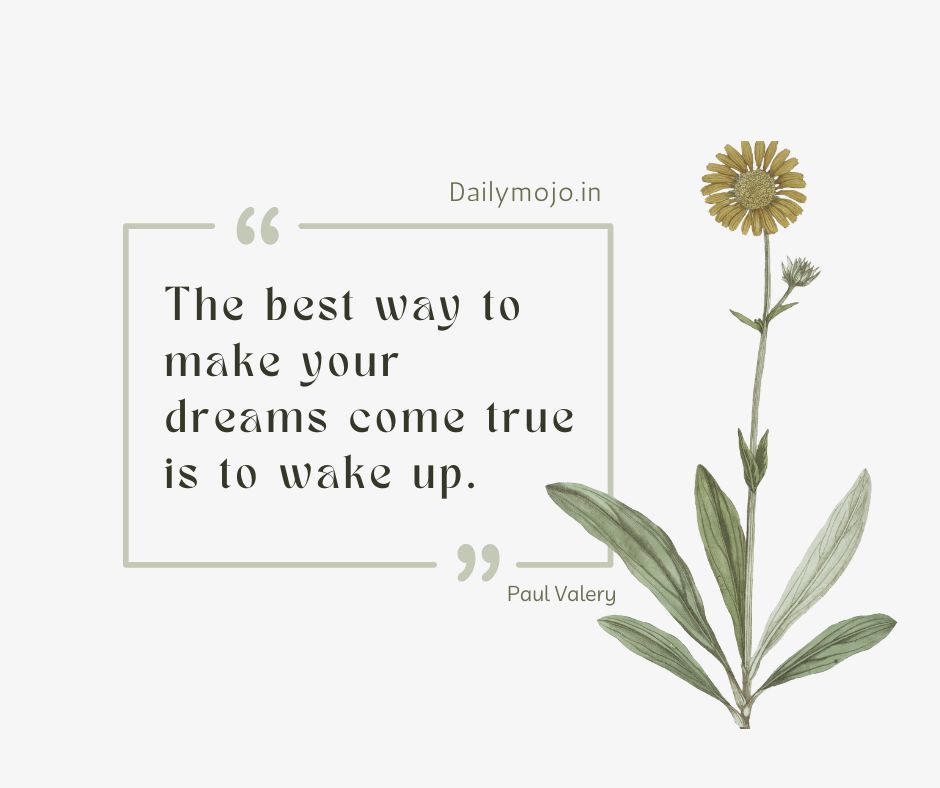 "Don't limit your challenges, challenge your limits." – Unknown
"The only thing standing between you and your dream is the story you keep telling yourself that you can't achieve it." – Jordan Belfort
"The greatest danger for most of us is not that our aim is too high and we miss it, but that it is too low and we reach it." – Michelangelo
"Dreams are the language of the soul. They are how your soul talks to you, and how the universe talks to you." – Unknown
How to stay motivated when pursuing big dreams?
Staying motivated when pursuing big dreams can be a challenge, but there are several strategies you can use to help keep yourself on track:
Have a strong purpose
It's important to have a clear understanding of why your big dream is important to you. What is the deeper purpose that drives you? What impact do you hope to have? When you have a strong sense of purpose, can help you stay motivated even when the work feels difficult or tedious.
Break it down into smaller tasks
Big dreams can feel overwhelming, but breaking them down into smaller, more manageable steps can make them more achievable. Set clear, specific goals and create a plan for how you'll work towards them. Celebrate your progress along the way to help you stay motivated.
Visualize success
Did you know that visualization is one of the most powerful tools for motivation? Take time each day to visualize yourself achieving your big dream. Imagine how it will feel, what it will look like, and what you'll do to celebrate. This will help keep you focused and motivated in the face of the challenges during your journey.
Build a support system
Surround yourself with people who support and encourage you. Share your big dream with others and seek out mentors or peers who can provide guidance and make you accountable. Joining a community of like-minded individuals can also help keep you motivated and inspired.
Take care of yourself
Pursuing big dreams requires hard work and persistence, but it's important to take care of yourself along the way. Make time for self-care activities that help you recharge and refocus, such as exercise, meditation, or spending time in nature.
Over to you
Remember that success often requires persistence, hard work, and a willingness to take risks, but with dedication and determination, you can achieve great things.
Staying motivated when pursuing big dreams is a process, and it's okay to experience setbacks or moments of doubt. By staying focused on your purpose, breaking your dream down into smaller steps, visualizing success, seeking support, and taking care of yourself, you can stay motivated and continue making progress towards your goals.
What's your big goal?